[The Spy and the Traitor. The Greatest Espionage Story of the Cold War]
Type: Literature
Some morally inappropriate content.
Contains significant sections contrary to faith or morals.
Contains some lurid passages, or presents a general ideological framework that could confuse those without much Christian formation.
Contains several lurid passages, or presents an ideological framework that is contrary or foreign to Christian values.
Explicitly contradicts Catholic faith or morals, or is directed against the Church and its institutions.
Ideas that contradict Church teaching:
The rating of the different categories comes from the opinion of Delibris' collaborators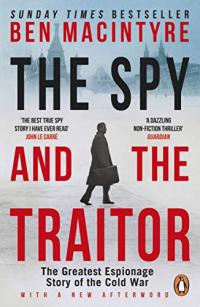 This story moves between fiction and history, as the author bases the story on real data and the reader knows the outcome from the beginning, but Macintyre conceives it as a thriller and achieves it because it maintains tension throughout the novel. Ben Macintyre, who belonged to the MI6, is based on inside information and tries to offer an idea of the performance of this secret service, but his book focuses mainly on the story of Oleg Gordievski who lived at a constant risk of death and had to make very difficult decisions; a man whose hatred for communism possibly influenced the future of humanity because, with his warnings to the British and American governments, he managed to change various political decisions; he is the protagonist of this story with which Macintyre manages to impress. The author believes that Oleg Gordievski, who held a senior position in the KGB, by acting as a spy for British MI6, managed to prevent an atomic war from being unleashed in 1985 and also helped to accelerate the end of the Cold War.
Oleg, who was convinced of the goodness in the communist system, his family had always supported the system. Being highly intelligent, cold and ambitious, he was seduced by the perks and secrecy offered to him by the KGB that also promised him a good salary and travel abroad. The KGB instructed him on the techniques and prepared him for espionage. But Gordievski was disappointed when he observed that the regime was not evolving and that the USSR had become a great prison. It is not known whether it was his fear of authority or his entrenched habit of submission or other things that led him to continue his work. During the invasion of Hungary (1954) he was hardly a teenager, but the analysis of what happened in Berlin in 1961, when, in the face of the Germans' desires for freedom, the Soviets responded with the construction of the wall in a few hours, made him very doubtful of the goodness of the communist regime. With the invasion of Czechoslovakia (1968) he became convinced that he served a pernicious system but precisely because of his privileged position in the KGB, he could do something to change things. In 1968 he lived in Copenhagen in the service of the KGB and experienced the contrast between democracies and the Soviet System, he also read prohibited works in the USSR and although he began working for Occident at that time, he had to return to Moscow in 1978. There he spent a few years in which he divorced his first wife and married Leila Aliyeva, daughter of KGB agents, who never knew of his double life and had two daughters. He got a lot of information from the KGB because although he was able to give up espionage, he stated: "I want to discover the most secret, important and essential aspects of the Soviet leaders", "I want to find out how the system works" and when he finally achieved the goal of being destined to London (1982), he passed that information to the MI6. In 1984, Gordievski began to suspect that he might have been discovered as he felt that a senior KGB leader in London insinuated this. In fact, when he was called to Moscow in 1985 to confirm an appointment, he knew he might not be able to return. In Moscow he realized that he was trapped and before he was apprehended, he fled to Occident without his family. Leila and her daughters arrived in London in 1991, but after six years their family life was destroyed. Like every thriller, the story does not stand out for great literary values, although it does for its information; language is correct and you can see some values, i.e. not all spies act for money, end up alcoholics or have to be womanizers or homosexuals. It is interesting to know some methods used by the USSR or the performance of some political parties; it is assumed that deception is a weapon of espionage.
Ben Macintyre (1963) is a British author, researcher and columnist-editor at The Times, a newspaper for which he has also worked in New York, Paris and Washington. His columns deal with current issues and historical controversies. He is the author of several espionage books.
Author: Angeles Labrada, Spain, 2020