Type: Literature
Some morally inappropriate content.
Contains significant sections contrary to faith or morals.
Contains some lurid passages, or presents a general ideological framework that could confuse those without much Christian formation.
Contains several lurid passages, or presents an ideological framework that is contrary or foreign to Christian values.
Explicitly contradicts Catholic faith or morals, or is directed against the Church and its institutions.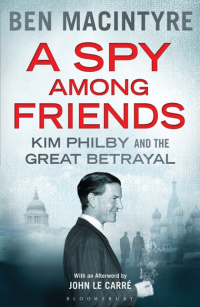 The book is a biography of double agent Kim Philby (Harold Adrian Russell, 1912-1988) during the Cold War. The author warns that he is writing from the viewpoint of the friendship between Kim, Elliot and Angleton, and that the definitive biography will not be complete until the opening of the MI5, MI6 and the CIA archives. Kim Philby was English, with the same formation and habits as his friend Nicholas Elliot, a prestigious agent with whom he worked closely. Unlike Elliot, Philby was a convinced Marxist, who worked for the Soviet Union for more than 30 years. When Philby was accused of Communism, Elliot of MI6 and his friend James Jesus Angleton of the CIA testified in his favour, so that Kim went on leaking data. He was unmasked in 1963. His friends understood that their friendship was not real, but a coverup.
Philby fled to Moscow and there he remained till his death. The book is an enjoyable work of suspense, with short, well-documented chapters. The epilogue is by John le Carré (1931), who visited Moscow in 1987 and was offered to write Philby's memoirs. Intelligence agents lead a promiscuous, bibulous life, presented as natural. Ben MacIntyre (1963) is a British journalist and writer. He worked for The Times. He is the author of many books, a number of them made into movies.
M.L. (España, 2016)
It is an interesting run within the nooks and crannies of the British and Soviet secret services, from the Spanish Civil War to the 1980s. The history is centred on Kim Philby, the most famous postwar agent, member of the Cambridge Five who for 30 years fed information to the Soviet Union. A double agent, suspected by some and protected by others, he shows the weaknesses and strengths of the secret services, but above all the complex personalities of the best known spies. The book, relying on interviews and official documents, recounts some actions of the British Intelligence agencies MI5 and MI6, before and after the Cold War in cities such as London, Berlin, Istambul, Cairo or Beiruth. It is an interesting book to understand some modern history. At times the account gets sluggish, but without losing the reader's attention. The epilogue is John le Carré's, author of detective novels, once attached to British Intelligence and who interviewed people very close to Philby
F.F. (España, 2016)