Type: Thought
Requires prior general knowledge of the subject.
Readers with knowledgeable about the subject matter.
Contains doctrinal errors of some importance.
Whilst not being explicitly against the faith, the general approach or its main points are ambiguous or opposed to the Church's teachings.
Incompatible with Catholic doctrine.
Vulgar or obscene language:
Ideas that contradict Church teaching:
The rating of the different categories comes from the opinion of Delibris' collaborators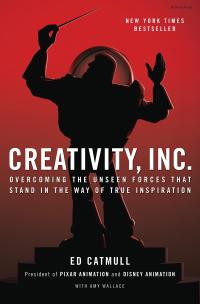 Creativity, Inc. is a book for professionals who want to take their teams to higher heights, a manual for any reader who values originality and the first trip to the nerve center of Pixar Animation: to their meetings, their project closure evaluations and the Braintrust sessions from which some of the most successful films in the history of cinema were born. It is, at heart, a book about how a creative culture is built, but also, as the author says, "a reflection of the ideas that I believe bring out the best in us."
When Ed Catmull was young, he had a dream: to make the first computer-animated film. He pursued this dream as a student at the University of Utah, and teamed up with George Lucas in a collaboration that indirectly led him to found Pixar with Steve Jobs and John Lasseter in 1986. The essential ingredient in Pixar's success lies in its unique environment, which Catmull and his colleagues managed to forge, based on principles that protect the creative process and challenge established ideas.
He proposes as ideas that guide the management of teams principles such as: a manager's responsibility is not to prevent risks, his job is to provide the security for others to assume them; the cost of preventing mistakes is often higher than that of correcting them; the communication structure of a company should not be a reflection of its organizational structure, but rather the whole team should be able to interrelate, regardless of their position and functions; do not assume that general consensus will generate change; it takes a lot of energy to move a group, even if all its members are committed to the project.
Author: Felipe Izquierdo, Chile
Update on: Jan 2021