[The President, the Pope and the Prime Minister. Three who changed the World]
Type: Thought
Requires prior general knowledge of the subject.
Readers with knowledgeable about the subject matter.
Contains doctrinal errors of some importance.
Whilst not being explicitly against the faith, the general approach or its main points are ambiguous or opposed to the Church's teachings.
Incompatible with Catholic doctrine.
Vulgar or obscene language:
Ideas that contradict Church teaching:
The rating of the different categories comes from the opinion of Delibris' collaborators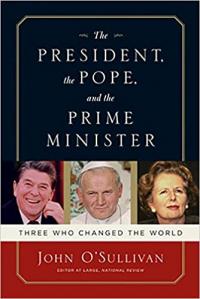 The eighties of the twentieth century were not easy with the intensity of the Cold War, the political and sexual revolution on university campuses, the biased interpretations of Vatican II and a third world burning with liberation movements encouraged by the Soviet Union, as well as movements, almost always destructive of the established society and supported by apocalyptic utopias. 
The influence of the propaganda of the two blocs was strong, the West wanted to demonstrate the benefits and advantages of liberal democracy and consumption while the Soviets financed radical Western groups and also revolutionary groups that could crack the comfort of Western life.
But suddenly, three world leaders appeared, in chronological order John Paul II, Margaret Thatcher and Ronald Reagan who changed a world. It began with John Paul II and his visits to Poland, which provoked the harshness of the last Soviet leaders until the arrival of Gorbachev and ended, twenty years later, with the collapse of the Soviet empire with Boris Yeltsin. 
This is the story that the book describes, the decisions of three world leaders who tackled problems by appealing to common sense with the conviction that they were fighting with the truth and therefore knew they would finally win, "they replaced despair with hope; they dispelled the nightmare". But this cannot be understood without understanding their spirit, they all preached hope and not to be afraid. John Paul II in his visits and homilies in Poland gave encouragement to the population in the face of the bureaucratic, police and military communist monster, Reagan preached the arrival of an era of freedom that would bring the end of communism and Thatcher knew how to transmit the errors of socialism and prepare the liberation to reach a better life. Each in their own way were enthusiastic defenders of freedom. 
It is very clear how the Pope, although he understood and shared objectives with the two politicians, followed his own project. They also showed their differences and the two politicians had their moments of shadows, all of which, although complicated and sometimes dry, is very well described. 
Author: Francisco Forriol, Spain, 2022