Type: Thought
Requires prior general knowledge of the subject.
Readers with knowledgeable about the subject matter.
Contains doctrinal errors of some importance.
Whilst not being explicitly against the faith, the general approach or its main points are ambiguous or opposed to the Church's teachings.
Incompatible with Catholic doctrine.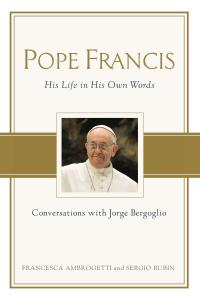 This book, published in 2010, contains a series of interviews conducted by two journalists, Sergio Rubin and Francesca Ambroguetti with the then Cardinal Jorge Bergoglio.  The interview takes us through his life, and the questions provide the opportunity to deal with a lot of doctinal issues such as the defence of life, sexual morality, the role of the laity in evangelisation etc. The Cardinal faces up to compromising affairs such as abuse, and his relations with the Argentine government.  Naturally, since it is a question of informal conversations, on many occasions some topics are just touched on.  There are many references to the particular circumstances of Argentina.
T.R. -J.V. (2012)
An Interview book with the then Cardinal Jorge Mario Bergoglio, today Pope Francis, by interviewers, the journalists Sergio Rubin and Francesca Ambrogetti.  It is straightforward, pleasant, anecdotal and at the same time with a certain depth which enables to recognise in Bergoglio his personality as father and pastor, a man of flesh and blood, with a solid interior life, accompanied with spiritual childhood.
One realises that the the message which the Pope puts across since his election is not improvised but corresponds to what he has been living and saying since his youth. Very often we come across words and phrases like 'encounter', 'outgoing church', 'discard', 'mercy', 'allowance', 'thanks', 'forgiveness'.  In short, we may say this book confirms the authenticity of the message of Pope Francis today.
G.C. (Italia, 2016)