Type: Literature
Some morally inappropriate content.
Contains significant sections contrary to faith or morals.
Contains some lurid passages, or presents a general ideological framework that could confuse those without much Christian formation.
Contains several lurid passages, or presents an ideological framework that is contrary or foreign to Christian values.
Explicitly contradicts Catholic faith or morals, or is directed against the Church and its institutions.
Ideas that contradict Church teaching:
The rating of the different categories comes from the opinion of Delibris' collaborators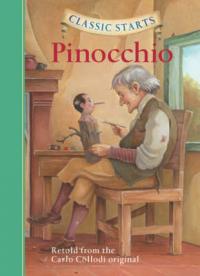 The adventures and misadventures of Pinocchio, a living wooden doll made by the old carpenter Geppetto. Pinocchio is a capricious and insolent boy, and will have to learn to live from his own mistakes: whenever he says a lie, his nose will grow as a punishment. However he will always have the help and advice of the Cricket and the Fairy, and the father is always waiting for him. A classic of children's literature.
Author: Jorge Gaspar, Portugal, 2019