[NIcht allein: Wege geistlicher Begleitung]
Type: Thought
Requires prior general knowledge of the subject.
Readers with knowledgeable about the subject matter.
Contains doctrinal errors of some importance.
Whilst not being explicitly against the faith, the general approach or its main points are ambiguous or opposed to the Church's teachings.
Incompatible with Catholic doctrine.
Vulgar or obscene language:
Ideas that contradict Church teaching:
The rating of the different categories comes from the opinion of Delibris' collaborators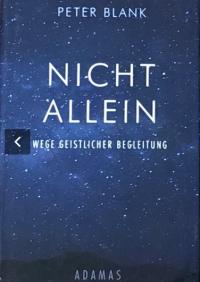 This book of Peter Blank is a good handbook for those who guide other souls in the spiritual life (accompaniment), but it is also very helpful for one's own spiritual life.
The author presents the big picture behind the need to grow in virtue, and therefore in holiness. He then gives very practical details for both spiritual director and directee. In our times when mentoring or coaching has become a must in the professional life, and life coaching a big help in realizing one's objectives in life in general, a book on spiritual accompaniment becomes all the more necessary, since one's direction towards God has to become the north star for one's profession and one's life in general.
Author: Carlos Estrada, Philippines, 2022