[A Little Dinner at Timmins's]
Type: Literature
Some morally inappropriate content.
Contains significant sections contrary to faith or morals.
Contains some lurid passages, or presents a general ideological framework that could confuse those without much Christian formation.
Contains several lurid passages, or presents an ideological framework that is contrary or foreign to Christian values.
Explicitly contradicts Catholic faith or morals, or is directed against the Church and its institutions.
Vulgar or obscene language:
Ideas that contradict Church teaching:
The rating of the different categories comes from the opinion of Delibris' collaborators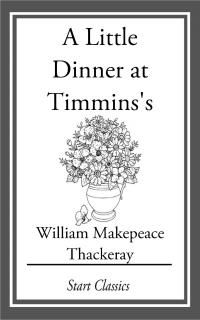 The Timmins are a young English couple who are looking for a place in society. In order to achieve this, they organize an exclusive dinner with the highlights of London society. The scarce experience of both in the selection of the guests and the intervention of a mother-in-law in the preparation of the dinner, will lead the Timmins to wish not to have promoted the event. A brief work of humour in which the author shows the effects of vanity. Although set in the nineteenth century the characters of the characters are now current.
Author: Francisco Forriol, Spain
Update on: May 2023