[Five on a treasure island]
Type: Literature
Some morally inappropriate content.
Contains significant sections contrary to faith or morals.
Contains some lurid passages, or presents a general ideological framework that could confuse those without much Christian formation.
Contains several lurid passages, or presents an ideological framework that is contrary or foreign to Christian values.
Explicitly contradicts Catholic faith or morals, or is directed against the Church and its institutions.
Ideas that contradict Church teaching:
The rating of the different categories comes from the opinion of Delibris' collaborators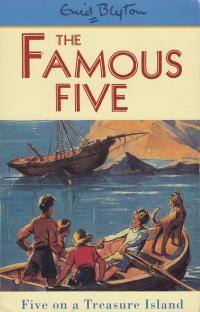 Julian, Dick and Anna are going to spend the holidays with their uncles Quintin and Fanny, and their cousin Georgina, who likes to be called George. Although George is a little distant at first, little by little they will gain his trust. They discover that she has a dog, Tim, and that she owns Kirrin Island, which has a ruined castle in the centre. The adventures will be coming soon.