[Vingt Mille Lieues sous les mers]
Type: Literature
Some morally inappropriate content.
Contains significant sections contrary to faith or morals.
Contains some lurid passages, or presents a general ideological framework that could confuse those without much Christian formation.
Contains several lurid passages, or presents an ideological framework that is contrary or foreign to Christian values.
Explicitly contradicts Catholic faith or morals, or is directed against the Church and its institutions.
Ideas that contradict Church teaching:
The rating of the different categories comes from the opinion of Delibris' collaborators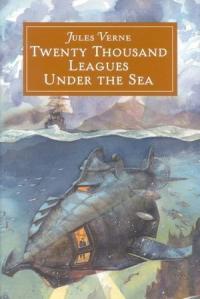 Twenty Thousand Leagues Under the Sea is perhaps one of the most famous works of Jules Verne, and one of the most visionary ones. It tells the story of Professor Pierre Aronnax, his assistant Consil and the gunner Ned Land, who looking for a strange cetacean on the high seas, are shipwrecked and arrive to what they think is an island, but in reality is a large metal structure that can travel under the sea: this is how they get to know the submarine Nautilus, commanded by the eccentric captain Nemo. On board this means of transport -which at the time Jules Verne wrote, was still nothing more than a fantasy- they travel around different parts of the ocean (Atlantis, Polynesia, the Red Sea), exploring its wonders. Many of the artifacts mentioned by Verne, in addition to the submarine, have only been invented later (diving suits and machines that produce oxygen, for example).
Author: Jorge Gaspar, Portugal, 2018