Type: Literature
Some morally inappropriate content.
Contains significant sections contrary to faith or morals.
Contains some lurid passages, or presents a general ideological framework that could confuse those without much Christian formation.
Contains several lurid passages, or presents an ideological framework that is contrary or foreign to Christian values.
Explicitly contradicts Catholic faith or morals, or is directed against the Church and its institutions.
Ideas that contradict Church teaching:
The rating of the different categories comes from the opinion of Delibris' collaborators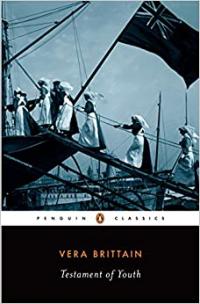 The author spent almost twenty years writing this work, which consecrated her as a writer. There are few books that narrate in detail, with elegance and depth, the suffering of the youth who lived through World War I and the interwar period. There are three ideas that shape this autobiography: the desire to be a writer, the struggle for women's rights and to achieve peace among nations.
Before the war began, Vera wanted to study at Oxford and become emancipated, even though she could not obtain a degree, because until 1920 the law did not allow her to do so, all at a time when women were under the tutelage of the family or marriage. She achieved her purpose of studying away from home, but the war broke out, which, it was thought, would last only a short time. Idealism and patriotism were exalted and the youth saw enlisting (it was not yet obligatory) as a duty to defend their country and Western civilization. Her fiancé, her brother, and all her friends enlisted. Brittain decided to do her bit by enrolling as a nurse in the Red Cross. Her assistance to the wounded only increased her conviction of the absurdity of war. She recounts the events, the ways of acting, the field hospitals and the exhausting work that is interwoven in a harsh and brutal succession but full of pity for the victims (she also attended to the German soldiers and discovers that they are young and broken like her British compatriots) and with all of them she has humanity and pity; but her criticism is continuous and merciless with those who sent them to the front.
The whole story is told in detail, it is a meticulous reproduction of his way of life, a neatness that allows us to follow the course of the war always from a lucid point of view, of a fighter who did not shrink from the harshness of the facts. The pain and pessimism grew deeper as the war dragged on and his loved ones were dying. When the war ended, he decided to finish his studies but he also wrote this book because he thought he owed it to that generation between 1914 and 1918 that nobody seemed to remember ("If the war spares my life," Brittain wrote to his brother, "my only objective will be to immortalize in a book our history, that of our friends").
She finished her studies, graduated and kept what became the purpose of her life, besides definitively emancipating herself and writing: to fight for peace, although she found that the conditions imposed by the Treaty of Versailles made it very difficult; and to fight for the improvement of women's rights, an area in which she obtained good results.  The last part of the book loses the epic grandeur of the previous story and is more of a chronicle of her political and social activities in favor of peace and women, as well as her first steps as a writer. The story is told from the point of view of someone who, once attracted to Catholicism, has an Anglican background that led to agnosticism, while showing enormous generosity, greatness, depth, commitment and coherence.
Author: Angeles Labrada, Spain, 2021