Type: Thought
Requires prior general knowledge of the subject.
Readers with knowledgeable about the subject matter.
Contains doctrinal errors of some importance.
Whilst not being explicitly against the faith, the general approach or its main points are ambiguous or opposed to the Church's teachings.
Incompatible with Catholic doctrine.
Vulgar or obscene language:
Ideas that contradict Church teaching:
The rating of the different categories comes from the opinion of Delibris' collaborators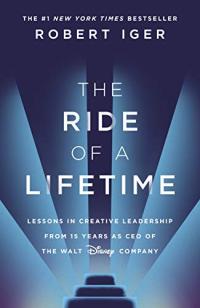 Robert Iger became CEO of The Walt Disney Company in 2005. In The Ride of a Lifetime, Robert Iger shares the lessons he learned while running Disney and leading its 220,000-plus employees, and he explores the principles that are necessary for true leadership. He was Time's 2019 businessperson of the year.
Disney is the largest media company in the world, counting Pixar, Marvel, Lucasfilm, and 21st Century Fox among its properties. Its value is nearly five times what it was when Iger took over, and he is recognized as one of the most innovative and successful CEOs of our era. Some of the values present in the book are: Optimism, courage, decisiveness, fairness, hardwork.
Author: Alejandro Cid, Uruguay, 2021