[Voces del Siglo de Oro español]
Type: Thought
Requires prior general knowledge of the subject.
Readers with knowledgeable about the subject matter.
Contains doctrinal errors of some importance.
Whilst not being explicitly against the faith, the general approach or its main points are ambiguous or opposed to the Church's teachings.
Incompatible with Catholic doctrine.
Ideas that contradict Church teaching:
The rating of the different categories comes from the opinion of Delibris' collaborators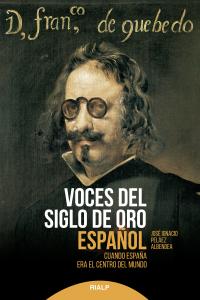 José Ignacio Peláez ha logrado con este libro una valiosa síntesis de una de las épocas más importantes de la historia de la cultura universal, el llamado Siglo de Oro español, que abarca los siglos XVI y XVII, con importantes antecedentes en el siglo XIV. Años que dejaron una gran huella no solo en España que, desde la perspectiva histórica, pasó de ser el centro del mundo a un periodo de decadencia, sino también en América y en el resto de Europa, sobre todo.
Se trata de una invitación a leer a aquellos escritores, a disfrutar con la riqueza y la belleza de sus textos, pero con la perspectiva de hoy, porque no han perdido actualidad y pueden ofrecernos sugerentes ideas para afrontar la crisis actual, entre otros motivos, porque todos ellos tenían una fe honda y bien cimentada, a pesar de sus limitaciones e imperfecciones. José Ignacio Peláez se ha centrado en los autores más importantes y ofrece de cada uno informnación biográfica y unas catas sobre sus obras más importantes.
El libro se inicia con tres grandes precursores (Garcilaso de la Vega, Juan Luis Vives y san Ignacio de Loyola), para pasar a las figuras más destacadas del siglo XVI: los profesores de Salamanca, grandes teólogos y jurista (Francisco de Vitoria, Domingo de Soto y Melchor Cano), tres grandes autores espirituales (san Juan de Ávila, fray Luis de Granada y santa Teresa de Jesús) y dos grandes poetas (san Juan de la Cruz y fray Luis de León). Cervantes merece capítulo aparte y significa la transición del Renacimiento al Barroco. Del siglo XVII, el lector se topa con los grandes dramaturgos Félix Lope de Vega, Tirso de Molina y Pedro Calderón de la Barca, con el poeta Luis de Góngora, y con el polifacético Francisco de Quevedo (poeta, novelista, ensayista, teólogo); es decir, grandes clásicos que no defraudan. Libro oportuno y sugerente. 
Author: Luis Ramoneda, Spain, 2021