[Memoirs of Chaplain Life. The Years Chaplain in the famous Irish brigade, "Army of Potomac"]
Type: Literature
Some morally inappropriate content.
Contains significant sections contrary to faith or morals.
Contains some lurid passages, or presents a general ideological framework that could confuse those without much Christian formation.
Contains several lurid passages, or presents an ideological framework that is contrary or foreign to Christian values.
Explicitly contradicts Catholic faith or morals, or is directed against the Church and its institutions.
Ideas that contradict Church teaching:
The rating of the different categories comes from the opinion of Delibris' collaborators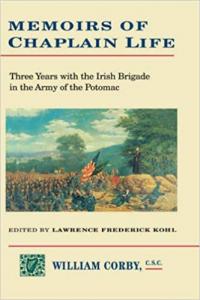 These are excellent memoirs of William Corby, a Catholic priest who attended to the Union soldiers, above all to those of the celebrated Irish Brigade, during the American Civil War. The author describes the events with precision: the battles, the life in the camp, the long marches, the great hardships the soldiers suffered in a particularly bloody war. He offers numerous testimonies of heroism, of generosity, of faith in the eternal life and in the mercy of God. He also shows the generosity of the Sisters of Charity and of other Catholic institutions attending to the wounded and the dying of both sides. It is an impressive tale which is worth reading. William Corby and the other priests who cared for the soldiers show laudable faith and courage.
Author: Luis Ramoneda, Spain, 2019