[La passione di Gesù. Cattura, incriminazione e condanna di un innocente]
Type: Thought
Requires prior general knowledge of the subject.
Readers with knowledgeable about the subject matter.
Contains doctrinal errors of some importance.
Whilst not being explicitly against the faith, the general approach or its main points are ambiguous or opposed to the Church's teachings.
Incompatible with Catholic doctrine.
Ideas that contradict Church teaching:
The rating of the different categories comes from the opinion of Delibris' collaborators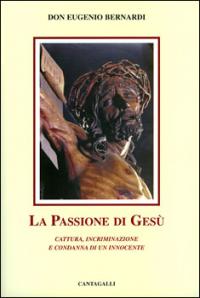 The book is a wonderful meditation on the Passion of the Lord divided into three parts: The Agony, the Way of the Cross and Death. Each part is divided into 30 scenes,thereabouts, in which the author follows the evangelical account with fidelity and deep attention. The texts are thought of as meditations to help the seminarians of the seminary of Trent to meditate and love the passion of Jesus.
The text, with a classic style but alive with relevance, always has a spiritual depth and, both the psychological penetration of the scenes and the exegetical work of the texts, serve to facilitate meditation and the approach to the richness of the mystery of the Passion of Jesus Christ. The Italian style is rich and typical of the era in which the work was written. It can be a good book for both spiritual reading and personal meditation, although it requires a certain cultural and spiritual formation.
Author: Redacción Delibris, Italy, 2020