Publisher:
CreateSpace Independent Publishing Platform
Type: Thought
Requires prior general knowledge of the subject.
Readers with knowledgeable about the subject matter.
Contains doctrinal errors of some importance.
Whilst not being explicitly against the faith, the general approach or its main points are ambiguous or opposed to the Church's teachings.
Incompatible with Catholic doctrine.
Vulgar or obscene language:
Ideas that contradict Church teaching:
The rating of the different categories comes from the opinion of Delibris' collaborators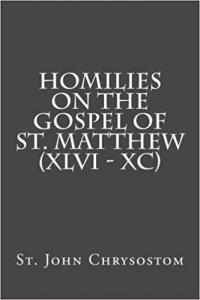 This complete commentary on Matthew defends the unity of Scripture. God is the lawgiver for both Covenants; the Old Testament prepares for the New. Confronting Arianism, it emphasizes the equality of the Father and the Son. Man's ultimate end is to give glory to God. Stresses love for God's law and living the virtues, with many practical examples. Contains many references to how the early Christians lived their faith in the middle of the world.
Author: Redacción Delibris, Italy, 2018