[Faith Challenges Culture]
Type: Thought
Requires prior general knowledge of the subject.
Readers with knowledgeable about the subject matter.
Contains doctrinal errors of some importance.
Whilst not being explicitly against the faith, the general approach or its main points are ambiguous or opposed to the Church's teachings.
Incompatible with Catholic doctrine.
Vulgar or obscene language:
Ideas that contradict Church teaching:
The rating of the different categories comes from the opinion of Delibris' collaborators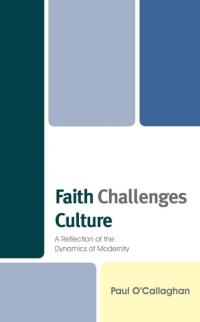 In this terrific book Dubliner Fr Paul O'Callaghan, lecturer in the school of theology in the Pontifical University of the Holy Cross in Rome, presents a succinct and insightful analysis of a daunting topic: the interaction of faith and culture. He sets himself the task of examining how Western culture has been moulded by faith (by which he means faith in the strict sense of revealed religion, and not religion in general) and in particular how this is true of four realities key to contemporary culture: rationality, freedom, equality and (surprisingly) conquest.
As we might imagine, the faith-culture relationship will of necessity be a complex one. They are two very different realities: faith stems from a divine initiative, indeed an "interruption" into human history, while culture is the fruit of human endeavour. And nevertheless as the author points out, the West has developed without either element erasing the other; rather they "seek each other out", each respecting the contribution of the other (for the most part): "Christian revelation and grace are not meant to ride roughshod over reality, over the world as we know it, over the lives and dreams and projects of its inhabitants, over the traditions and civilizations consolidated over the centuries …".
And yet we know that Modernity (the period dating from around the sixteenth or seventeenth century) has been predicated on an elevation of man accompanied by a diminished view of God and a disregard for the West's Christian roots – an unfortunate over-correction of the Medieval world's bias for the divine over the human. The effects of the secularising tendency of modernity are apparent in the impoverishing effect on those four key areas of rationality, freedom, equality and conquest, distorting them in the direction of rationalism, licence, reductive egalitarianism and rapine respectively.
Author: Gavan Jennings, Ireland
Update on: Oct 2022