[Darkest hour. How Churchill Brought Us Back from the Brink]
Type: Literature
Some morally inappropriate content.
Contains significant sections contrary to faith or morals.
Contains some lurid passages, or presents a general ideological framework that could confuse those without much Christian formation.
Contains several lurid passages, or presents an ideological framework that is contrary or foreign to Christian values.
Explicitly contradicts Catholic faith or morals, or is directed against the Church and its institutions.
Ideas that contradict Church teaching:
The rating of the different categories comes from the opinion of Delibris' collaborators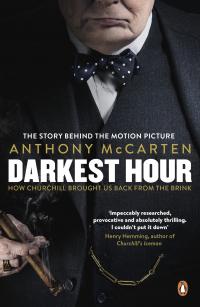 Anthony McCarten recounts the dramatic moments the United Kingdom lived through between May 10 and 30, 1940, when Hitler, after controlling both Central and the Western Europe, was preparing to invade Great Britain, while the British expeditionary troops tried to embark in Dunkirk despite the Nazi bombing. Faced with the failure of Chamberlain's and Halifax's policy of appeasement, Parliament changed and Churchill was elected as the new Prime Minister. The book highlights the how, the content and why of his famous speeches, in which he promised a future of blood, fatigue, tears and sweat, and in which he showed his determination to carry the war to the end, guaranteeing a victory that no one predicted to be possible.
The author reconstructs the facts, the characters, and explains, in addition to the principles, the rhetorical mechanisms that Churchill used to move and convince the British people. The figure of Churchill is reflected with his virtues and his errors. McCarthen recognizes Churchill's capacity for optimism, perseverance and leadership, which he managed to transmit to his immediate collaborators and to the public opinion inside and outside his country. The narrative is correct, realistic and very well documented.
Author: Angeles Labrada, Spain, 2019