Type: Literature
Some morally inappropriate content.
Contains significant sections contrary to faith or morals.
Contains some lurid passages, or presents a general ideological framework that could confuse those without much Christian formation.
Contains several lurid passages, or presents an ideological framework that is contrary or foreign to Christian values.
Explicitly contradicts Catholic faith or morals, or is directed against the Church and its institutions.
Ideas that contradict Church teaching:
The rating of the different categories comes from the opinion of Delibris' collaborators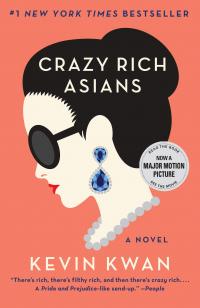 The author was born in 1973 in Singapore and, at the age of eleven, he moved to the United States where he graduated in Creative Writing from the University of Houston. This is his first novel, an ironic portrait of the senseless life of Singapore's richest people. 
Rachel Chou, a New Yorker with a doctorate in Economics and with an ancestry from mainland China, travels to Singapore with her boyfriend, Nick Young, who belongs to one of the wealthiest families in Southeast Asia's privileged city. Rachel discovers, in amazement, the lifestyle of a world of unsuspected wealth that buys Parisian high fashion by the dozens, travels in private jets and live in palaces reserved for an elite surrounded by servants. Rachel must confront from the start the slander of all the single women who were hoping to marry Nick. The novel runs through the usual course of romantic stories and indulges in  describing – like avant-garde fashion magazines —high-society environments, mentioning with names and surnames all kinds of exquisite delicacies, designer furniture, dressmakers, decorators and world-renowned architects.  
Kwan, who spares no mild criticism of his characters' frenzied hedonism, nonetheless casts no qualms about sexual relations outside of marriage, first of all of those of his protagonists, Rachel and Nick. Neither does he details erotic scenes when referring - which is frequent - to the dissolute life of other characters or in transcribing their vulgar language.
Author: Fernando Jadraque Sánchez, Spain, 2019