[Boy from Buchenwald: The True Story of a Holocaust Survivor]
Publisher:
Bloomsbury Children's Books
Type: Literature
Some morally inappropriate content.
Contains significant sections contrary to faith or morals.
Contains some lurid passages, or presents a general ideological framework that could confuse those without much Christian formation.
Contains several lurid passages, or presents an ideological framework that is contrary or foreign to Christian values.
Explicitly contradicts Catholic faith or morals, or is directed against the Church and its institutions.
Vulgar or obscene language:
Ideas that contradict Church teaching:
The rating of the different categories comes from the opinion of Delibris' collaborators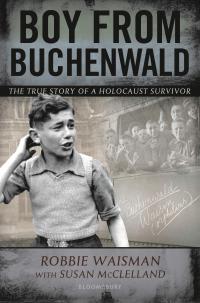 Romek Waisman, a Polish Jew, was only nine years old when Germany invaded Poland; his father tried to save him but he and other children ended up in the Buchenwald concentration camp. The camp was liberated in 1945 and the U.S. Army found not only corpses but also something unexpected: hundreds of surviving Jewish children. Because of the horrors they suffered, no one thought they could adapt to society again, but thanks to the care and patience of medical volunteers and his mentor, Romek Waisman managed to overcome, despite the memories of the camp, his parents and siblings being killed, and the fact that he no longer had a home to return to in Poland.
Narrated in first person, recounts his memories of his home in his native village and, in parallel, the events in Buchenwald, where there seemed to be only hatred and extermination, although thanks to the kindness of some prisoners he was sometimes able to have some shelter and improve nutrition. He suffer a lot, his memories were so bitter that he did not even tell his children and friends about the horrors of the camp. It was precisely the Holocaust denialism (genocide of the Jews) of the 1980s or anti-Semitism that made Romek Waisman (Robert Waisman) break his silence and begin to talk about his experience, spread his memories and write this book.
Although he recounts the horrors he experienced, he does not dwell on them. There are notes of kindness to his parents and siblings, and the friendship he received from some people. Although he makes no mention of following tradition, he describes his family as Orthodox Jews and values their teachings.
Robert Waisman (Skarzysko-Kamienna, Poland, 1931) is a Polish Jewish businessman who emigrated to Canada in 1949. Since 1980 he has been an active member of the community of Holocaust survivors in Canada. He has spoken to thousands of students about the importance of remembering, and has worked on behalf of the Jewish community to foster solidarity with Canada's indigenous communities. After leaving Buchenwald in 1945, Waisman and 429 other children were transferred to Écouis (France) under the auspices of the Ouvre de secours aus enfats (OSE) with the aim of rehabilitating them for society. In 2021 he published this book with journalist Susan Mc Clelland.
Author: Angeles Labrada, Spain, 2022