[Le Tour du monde en quatre-vingts jours]
Type: Literature
Some morally inappropriate content.
Contains significant sections contrary to faith or morals.
Contains some lurid passages, or presents a general ideological framework that could confuse those without much Christian formation.
Contains several lurid passages, or presents an ideological framework that is contrary or foreign to Christian values.
Explicitly contradicts Catholic faith or morals, or is directed against the Church and its institutions.
Ideas that contradict Church teaching:
The rating of the different categories comes from the opinion of Delibris' collaborators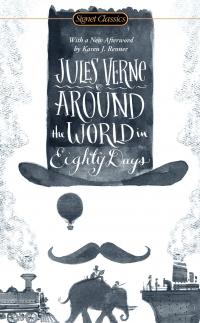 A rich Englishman, Fogg, makes a bet: according to him, it is possible to go around the world in 80 days. To win the bet, he embarks on a journey with Passepartout (a proper name, which in French means "go everywhere"), his servant Fix, a detective who suspects he is a thief and Aouda, an Indian girl. The narrative of the trip is interesting, as is the description of the countries through which it passes (Suez, Adem, Bombay, India, Calcutta, Singapore, Hong Kong, Yokohama, S. Francisco, the plains of the United States, New York, and back to London) and the means it uses (by boat, train, elephant, etc.). Fix will try to delay the trip and Passepartout (due to successive mistakes) will cause several setbacks, but Fogg will continue to do his best to achieve it. A simple and fun book, for all audiences.
Author: Jorge Gaspar, Portugal, 2018