[The Adventures of Tom Sawyer]
Type: Literature
Some morally inappropriate content.
Contains significant sections contrary to faith or morals.
Contains some lurid passages, or presents a general ideological framework that could confuse those without much Christian formation.
Contains several lurid passages, or presents an ideological framework that is contrary or foreign to Christian values.
Explicitly contradicts Catholic faith or morals, or is directed against the Church and its institutions.
Vulgar or obscene language:
Ideas that contradict Church teaching:
The rating of the different categories comes from the opinion of Delibris' collaborators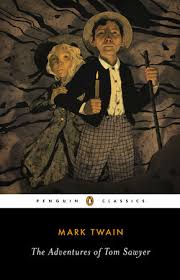 Tom Sawyer lives with his brother Sid and Aunt Polly in St Petersburg, Missouri. He is a great friend of Huckleberry Finn and this is an account of their adventures. They witness Injun Joe stabbing the doctor to death and blame it on Muff Potter who was drunk at the time. Tom ensures justice is done at the trial. His sweetheart is Becky Thatcher and the two of them get lost on a school picnic and are missing for three days. Samuel Clemens (Mark Twain) was born in 1835 and died in 1910. For at time he was a river pilot on the Mississippi, but was mainly a journalist and leading humorist. This is a timeless adventure story.
Author: Cliff Cobb, United Kingdom
Update on: Jan 2023